Spacecases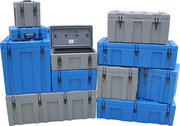 Spacecases are Australian made, very light weight vs the size, well made and well specified. Available 'off the shelf' in grey and blue.
Very popular and normally fast delivery.
Now shipping from Sea Optics and proving to be a excellent seller.
Give me a call 08 8363 3277 or email david@seaoptics.com.au and I will provide a quote for whatever size and quantity you require.