MAX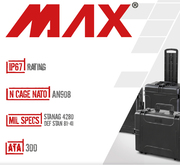 MAX cases do not offer panel frame kits as an accessory, why?, well most of their small and medium sized cases come standard with a small step/shelf in the side wall of the case, together with small holes for the screws.
It is simply part of the cases injection molding.
Great idea - no extra cost & does not affect the cases normal uses as a tough protective equipment case.
Sorry
There are currently no products here. Please check back at a later time.