Est 1974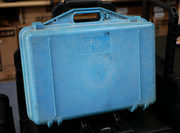 Sea Optics was first established in 1974 by Graeme Roberts in Adelaide, South Australia.
1979: Graeme met Dave Parker from Pelican Products at the DEMA show and Sea Optics became the official Australia importer for Pelican and their unique products, which at the time included just 1 x Sabrelite torch, the Pelican Float and the now legendary "Pelican Equipment Case".
We have an original blue Pelican case from the first lot of shipments here on display in the shop!!! People love seeing this old thing and what they have involved into today.