CASE FITTING SERVICE
CASE FITTING SERVICE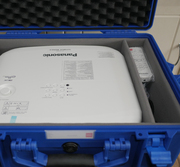 Sea Optics & Adelaide Cases has always fitted equipment into the cases that we sell.
Thousands upon thousands of cases have been fitted out by us for over 30 years now.
Just bring in all the items that you are looking to fit and we can go through the available cases and pick the best one to suit.
From there the most suitable interior is chosen for your requirements:
- Pick Out Base Foam.
- Felt Case Liner.
- Felt Case Liner with Divider Segment/s.
- with either Lid Foam or a 3/4 pocket Lid Organiser.
Work is often completed within 20 minutes/while you wait with the 'Pick Out' foam or if more complex, within a day or 2 normally with the 'Felt Case Liner' & Dividers.
Very cost effective, efficient & ultimately gets you what you need VERY quickly.
Just come into my shop with your gear @ 519 Portrush Rd, Glenunga and get it started.